The restoration (finally) continues

After a long search, and a little luck, I found just the restoration shop I needed for my Buick. There is a retired gentleman that works with the shop owner and all he does is come in and weld from 5 am to around lunch time. I pulled my car from the last bodyshop it was at after nine months of no work being done towards putting my fender on. As you could image, it was elated when the car has only been at the new place 3 days and this much work has been accomplished.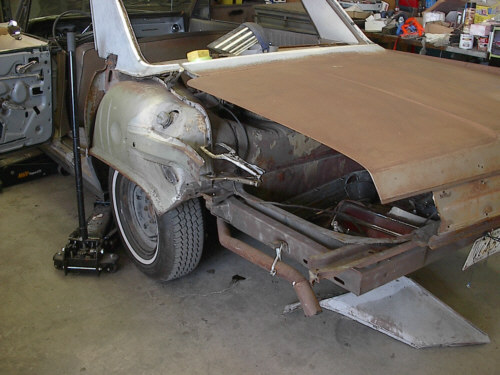 In the two pictures above, you can see that they separated the inner fender from the outer fender for correct welding. The inner fender has been tacked into place. Also, if you look under the fuel filler, they had to weld in some new metal to fix some rust. At the juncture of the C- pillar and the inner fender section, they actually had to weld in a brace to correct where the previous shop cut right through the support which should have been left intact. The back door shuts now!


Before

This is the bottom of the back door opening. The channel along the side of the car has been welded with a brace inside and it waiting finish work and some material added.

From the inside.

Before