Painting the inner fenders and supports bars of my 1964 Buick Wildcat
What I started with. The original passenger's side inner fender, a parts car driver's side fender, the top support bar from my car, the parts car lower support bar, and my car's original lower support bar, which I didn't use.

I started with the bottom of the driver's side inner fender. This was very hard to prep for paint as first it had to be cleaned. Here is it sanded and with rust converter on it.



Dupli-Color high build primer.



I got the bottom side all the way painted before I realized out of the dozen cans of Dupli-Color semi-gloss I picked up, there was one can of flat. Oh well, it is on the bottom of the car, so the finish stayed.



Top side sanded.



Rust converter applied.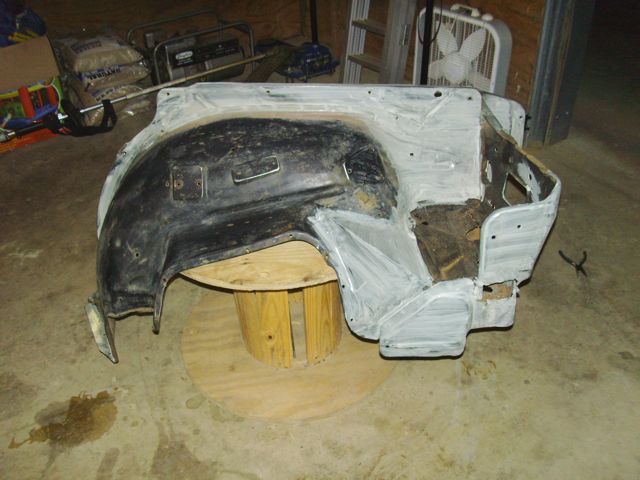 Primed, and steel insert screwed on where metal had deteriorated at the bottom front of the battery tray. I plan on getting this welded up and factory correct in the future, but at some point during a build you have to do some things to be able to move on.



Patch primed.



Finished product.



Parts car inner fender beside original to Sherman inner fender. Can you see why I chose to use the parts car inner fender? (Hint: battery tray).



The under side of the passenger side inner fender. This one was even harder to clean that the driver's side because it had a rubberized undercoating. Plenty of rags and 409 were used to get all the dirt off the ridged surface of the undercoating.



I chose to leave the factory/dealer undercoating in place. As I scraped it off, I found painted metal underneath. If it was in an area that had rusted I remove a bit of it, but for the most part, I let it stay. Here is the inner fender after a can of semi-gloss:



The top side of the passenger side inner fender sanded and antenna access hole masked.


Rust converter applied. By this time I was globally applying it to all surfaces for uniformity.



Rust convert after it dried.



Primed.



A can of semi-gloss later. Now the pop rivets "pop" out. They weren't really noticeable in their rusted state before.



Upper support bar primed.



Upper support bar painted.

Lower support bar and miscellaneous hardware ready for reinstallation.